We started our Trip Saturday afternoon. We Hit Mt. Hood in the evening.
We got extremely lucky and found a free camp site after 15 minutes on the trail. WOOHOOO camp was set up before night fall.
Saturday morning we hit the trail to explore for an event we are hosting with our jeep club. We took our time and enjoyed the day and what the trail offered. We went from the dense forest on the Southwest side of Mt. Hood to the sparse forest of Southeast side of Mt. Hood. We ended up in Wamic Oregon. Very Central Oregon looking. Brown fields with lots of rocks in the middle
:-)
Every one came back to camp 3 shades darker then they left! parts of the road were so dusty we almost had to get out respirators to breath. Note to self next time lead don't fallow! LOL
We had dinner at the Sprotsman's Pub n Grub then headed out to find gas. Not an easy feat in the middle of no where on a Sunday after 5:00 pm! We ended up back on HW 26 just west of the HW 35 interchange.
Saturday night we had a little thunderstorm Ok not so little and last the majority of the night. Levi got a bit wet as he and K were sleeping in the screen room on the front of our tent LOL. It was nice to know that after 6 years our Tent sill has no leaks! Hmm I better water proof it before out next trip or it will just my luck! LOL
We took our time coming home and stopped at the spot where the Tollgate for Barlow road was located at. Then we headed for the End of the Oregon Trail Interpretative center. We were told at their gift shop they ran out of funding 1.5 years ago and no longer have the museum open :-( That was a big bummer! K had never been there and was really looking forward to it.
We found a ton of free campsite up there. Very rustic! no running water, not electricity and a lot of them don't even have an outhouse. BUT they are Free! LOL free is a very good price. It only cost us $30 for a year forest pass. Not bad.
We will be spending more time up there camping for sure. Everyone loved the area. Our camp site was beautiful! There were only two camp site in meadow area very different from the camp grounds we are use to with 20 camp site or more and you get put next to that one group that has no manners! This time the one other campsite was occupied by the quietest couple I have ever seen. I'm afraid we were the neighbors with the bad
manners!
The trail to the out house.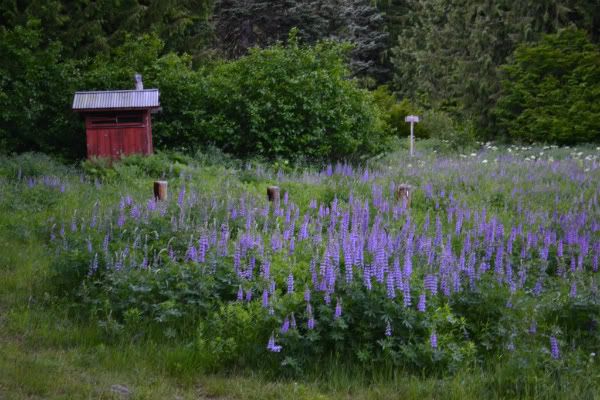 The meadow in the morning light.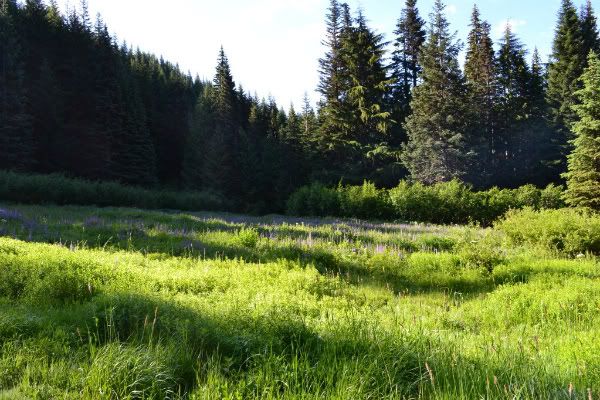 Hope you enjoyed our little adventure! I have to remember to bring my binder next time so I can write as we go so I have more details.